Alterre Posted on December 20 2021
CONTRIBUTOR: KATELYN CHEF
'Tis the month of December where all things appear merry, bright, and full of wonder. Imagine you just stepped back home, sliding off your custom Alterre Ballet Flats, after an evening of watching The Nutcracker Ballet. Everything from the tips of your toes to the end of your nose is tingling with a holiday buzz. Speaking of buzz, what's your holiday drink? Something neat and on-the-rocks? Perhaps, something non-acholic, but still bubbling with holiday flavor? Or perhaps, a traditional warm hot cocoa holiday drink is more your forte? 
No matter your Christmas drink preference, we have rounded up a few recipes to quench your thirst for all things merry and bright. 
1. White Christmas Margaritas 
Whether it's a good girls' night in or a fun party by the Christmas tree, serving festive White Christmas Margaritas may become your new holiday tradition. 
 This recipe yields from Delish.com 
 Elements 
1 (14-oz.) can unsweetened coconut milk

12 oz. 

silver tequila

8 oz. 

triple sec

1/4 c. lime juice

4 c. ice

Lime wedge, for rimming glass

Sanding sugar, for rimming glass

Lime slices, for garnish

Cranberries, for garnish
Method 
Combine coconut milk, tequila, triple sec, lime juice and ice in a blender. Blend until smooth.

Rim glasses with lime wedge and dip in sanding sugar. Pour into glass and garnish with lime and cranberries.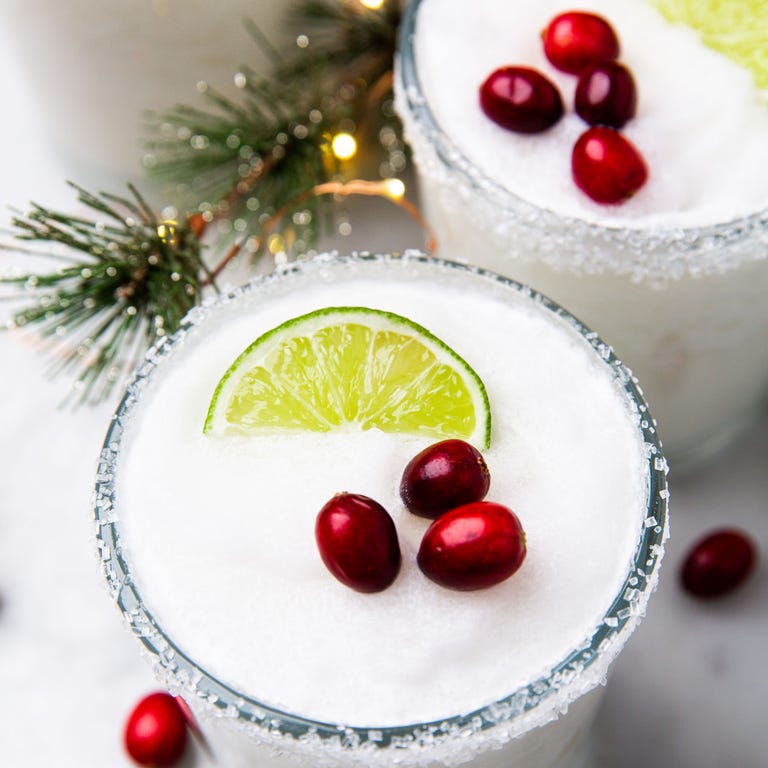 2. Santa Sleigh Cocktail 
A sweet cinnamon cocktail blended with vanilla ice cream and eggnog will have everyone feeling 'nice.' This holiday cocktail is via Sandra Lee for Food Network.
Elements 
White sugar crystals, course

2 cups store bought eggnog, chilled

½ cup brandy

½ cup amaretto liquor 

1 teaspoon ground nutmeg 

2 scoops vanilla ice cream 

4 cinnamon sticks 
Method
Dampen the rims of 4 martini glasses and then line rims with sugar crystals 

Combine eggnog, brandy, amaretto, nutmeg, and ice cream in blender, process until smooth. Pour mixture into martini glasses and garnish with a whole cinnamon stick.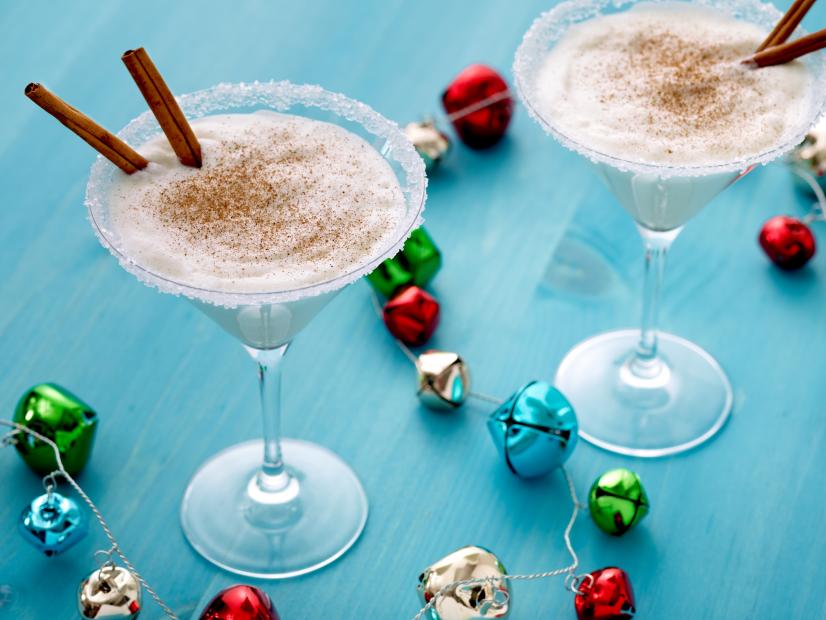 3. Morning After Thanksgiving Sangria 
If your holiday party already commenced, and there's leftover wine, make this recipe to finish off the excess bottles. 
This cocktail is from The Today Show courtesy Lazarus Lynch. 
Elements
2 cups cranberry juice
2 cups white cranberry-peach juice
12 ounces soda water or tonic water
2 cups Moscato
2 cups Viognier
orange wedges
sliced peaches
ice
fresh whole cranberries
fresh mint leaves
fresh rosemary sprigs
Method 
Add cranberry juice, cranberry peach juice, soda, or tonic water and wines to a large pitcher. Stir and mix well
Place an orange wedge and peaches in a wine glass. Fill with ice and top with punch.
Garnish with fresh cranberries, mint, and rosemary.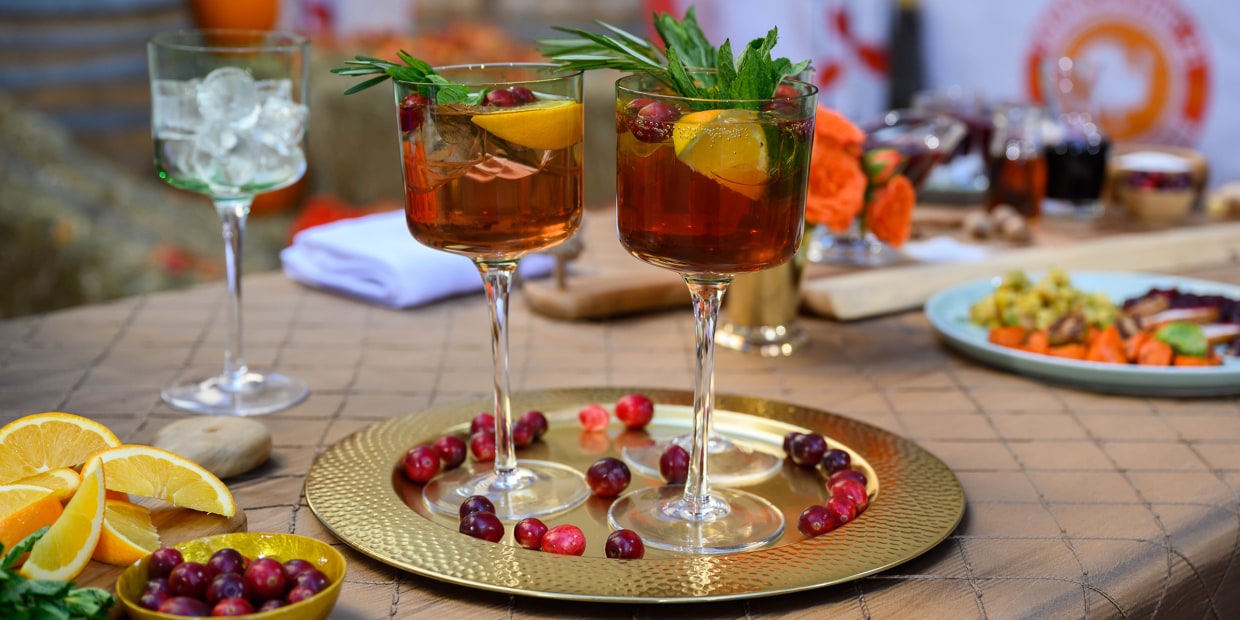 4. A Night At The Spritz 
This mocktail, crafted from the folks at Ghia, who make a delicious base for all of your healthy mocktail creations have this recipe listed on their website. P.S. this concoction is the founder's favorite drink. 
Element 
2 oz Ghia
2 oz sparkling water
A sprig of rosemary
The Zest of one orange 
Method
Mix 2 oz Ghia and 2 oz sparkling water, stir gently. Serve in a wine glass on the rocks and garnish with fresh rosemary sprig and bright orange zest.
5. Creamy Hot Cocoa 
Possibly, your holiday has been spent hitting to slopes or maybe the shops? Either way, come home and warm up with some hot chocolate. 
This recipe yields from Allrecipes.com. 
Elements
⅓ cup unsweetened cocoa powder

¾ cup white sugar

1 pinch salt

⅓ cup boiling water 

3 ½ cups milk 

¾ teaspoon vanilla extract 

½ cup half-and-half cream 
Method
Combine the cocoa, sugar and pinch of salt in a saucepan. Blend in the boiling water. Bring this mixture to an easy boil while you stir. Simmer and stir for about 2 minutes. Watch that it doesn't scorch. Stir in 3 1/2 cups of milk and heat until very hot, but do not boil! Remove from heat and add vanilla. Divide between 4 mugs. Add the cream to the mugs of cocoa to cool it to drinking temperature.
Remember to drink responsibly this Holiday Season and drinking and driving is never a merry mix. Have a safe and healthy season ahead!